BY TIM O'NEIL • [email protected]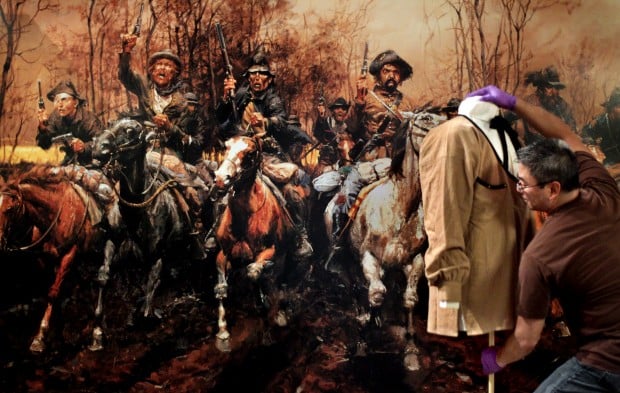 Mike Takaki, an art installer with Ely, Inc. carries a reproduction of a Confederate guerrilla shirt while building a display for the Missouri History Museum's 'The Civil War in Missouri' exhibit Tuesday November 8, 2011. The exhibit, marking the 150th anniversary of the Civil War and curated from artifacts in the museum's permanent collection, opens Saturday to visitors. Photo by Robert Cohen, [email protected]
ST. LOUIS • The Missouri History Museum's special exhibit on the Civil War opens this weekend with old artifacts and fast-moving interactive panels depicting this state's own convulsive, bloody divisions.
The exhibit is the museum's contribution to a four-year national commemoration of the Civil War's 150th anniversary. Missouri, a slave state, shakily remained in the Union. But it was deeply divided by sentiments that played out in harsh social conflict and brutal guerrilla warfare.
The exhibit runs through March 2013. It is in the museum's main building in Forest Park, at Lindell Boulevard and DeBaliviere Avenue. Spread across 6,000 square feet of floor space are 187 artifacts, 251 images, 56 storyboards of explanatory text and 12 touch-screen panels. The images include old drawings, portraits, maps and original documents.
At the entrance, a jumbo TV screen cycles through the portraits and conflicting thoughts of 12 Missourians, six from each side, as war began. They include Jessie Benton Fremont, the influential and ardently Unionist senator's daughter and general's wife; and Sterling Price, a former governor who joined the rebel army.
Continue reading "Missouri's Civil War experience depicted at History Museum" »
---