Author's grandson preserves history, releases 110-year-old book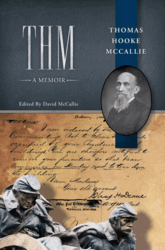 I felt his story should not remain untold.
Chattanooga, Tenn. (PRWEB) October 03, 2011
A 110-year-old memoir is now revealing the life, courage and faith of one man during the Civil War.
Edited by his grandson, THM: A Memoir (published by WestBow Press) follows the captivating time period embedded in the life of influential Chattanooga pastor Thomas Hooke McCallie. Touching on what he knew of his ancestral immigration and his education, the detailed memoir provides insight into McCallie's life in Chattanooga during the Civil War and his prominent role in the church, which was during the war years was the city's only church and served as a temporary hospital after the Battle of Chickamauga.
"I felt his story should not remain untold," says editor and grandson David McCallie.
As David McCallie grew older, he became impressed with his grandfather's life as a community icon during one of our nation's most historic time periods. THM, as he is called in the book, was also, with two of his sons, the founder of the McCallie School, a private preparatory school for boys that still continues on the same site more than 100 years later. "This memoir will truly serve as a reminder to the school of its roots," says McCallie.
Perhaps most poignant is the account of THM's bravery in opposing secession and simultaneously opposing the federal government's refusal to allow the seceding states to go in peace. Offering a new perspective to faith and the courage to stand alone, THM: A Memoir brings readers a candid and personal look at the power of unwavering faith during times of turmoil and uncertainty.
"THM walks and talks his faith in a forthright fashion," says McCallie. "Outside the church house, most of us don't talk our faith in on open way. We are uncomfortable with the 'Christ' in 'Christian.' THM's story is a reminder that our faith can be walked and talked on weekdays, too."
About the author
Thomas Hooke McCallie (1837-1912), the author of this memoir, was born in Washington, Rhea County, Tennessee. He served as pastor of the Presbyterian Church in Chattanooga from 1862 to 1873, including the tumultuous years of the Civil War.
David McCallie, the editor of this book and a retired physician, is a grandson of Thomas Hooke McCallie. Dr. McCallie earned his bachelor's degree from Princeton in 1944 and his medical degree from the University of Pennsylvania in 1946.
From PRweb