Village site of Civil War camp
By Ramona C. Sanders | STLtoday| Posted: Monday, July 4, 2011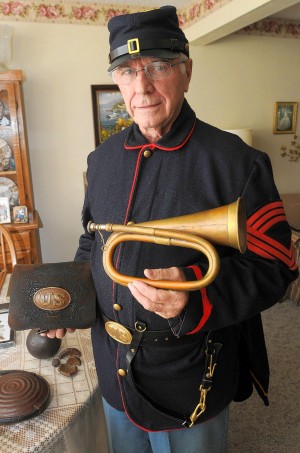 JOHN SWISTAK JR. / JOURNAL Bob Stephens, of Collinsville, holds Civil War relics he owns. He recently found new information about the region's role in the Civil War.
Collinsville resident Bob Stephens documents local history that you won't find in the libraries or online. He's even uncovered a relatively unknown story involving Caseyville, the Civil War and President Grant.
Through database and genealogy research and published letters from soldiers, Stephens discovered that Caseyville was the only site in Illinois to have military camps to defend the town's railroads and coal mines during the Civil War. And those camps were commanded by then-Capt. Ulysses S. Grant before becoming a war hero, general and U.S. president.
"When the Civil War started, Caseyville was 12 years old and had two railroads," said Stephens, a fifth-generation Caseyville native. "Because Missouri was thinking about seceding and Illinois had Confederate sympathizers, they were afraid they were going to tear up the rails. It would have put a hurt on St. Louis if the railroads got damaged."
Stephens said President Lincoln sent two regiments of 1,000 men each — one from Chicago and the other from Springfield — to Caseyville and enlisted Grant to command the troops. While there were training camps in Illinois during the Civil War, the defense camps installed in Caseyville — one located near what is now Morris Street and the other one located present-day Outer O'Fallon Street — are the only ones documented in the state, he said.
"As a result of that protection and presence, Missouri never did leave the United States," he said.
Bill Iseminger, chairmain of Collinsville's Historic Preservation Committee, said he was not aware of Caseyville defense camps. He said historians like Stephens are key to keeping local history alive.
"I think it's very important because there's only a few people that have that information or knowledge, so it's important that it be shared," Iseminger said.
Stephens, 72, has documented Caseyville history in two self-published books. The first book, "A Walk Through Time," was published for Caseyville's 150th anniversary in 1999. The second book, "A Walk Through Time Sequel," has just been released.
Stephens said proceeds from book sales will go to the Caseyville Cemetery on Hollywood Heights near Main Street. Stephens says he has five generations of family members buried in the graveyard and serves as its director and treasurer.
More than $15,000 was raised from the first book and was used to restore the historic cemetery. His donations provided $7,000 to install a blacktop surface in the cemetery, $5,000 to restore the aging military markers, and $2,500 to erect a memorial of the city's pioneers and war heroes.
Stephens, who is also the president of the Friends of the Collinsville History Museum and is a member of the city's Historic Preservation Commission, also owns a collection of Civil War memorabilia, including a Union army uniform, cannonballs, an amputation knife, and slave documents. He uses those items for the school presentations he's been doing for the past 17 years. He said he does about 25 school presentations a year and has received more than 2,000 letters from students.
"Teachers tell me history can be dull and the kids can get bored," Stephens said. "But they say that after I speak, there's a lot more books on history taken out of the library and a lot more projects and models created based on history. So it proves that they were listening."
• Founded by St. Louis financier John O'Fallon in 1849
• O'Fallon owned coal mines in area
• Village named after O'Fallon's friend, politician Zadok Casey
• 2 coal railroads that originated in Caseyville became Baltimore and Ohio, Pennsylvania railroads.
• Caseyville Public Library, 419 S. 2nd St.
• Mail $20 to Caseyville Cemetery Association, P.O. Box 595, Caseyville, IL 62232
Contact reporter Ramona C. Sanders at 618-344-0264, ext. 136
Copyright 2011 STLtoday.com. All rights reserved. This material may not be published, broadcast, rewritten or redistributed.
Read more: http://www.stltoday.com/suburban-journals/illinois/news/article_2698f82c-aa4b-53a3-ac93-86dccabca867.html#ixzz1XrV6rEcR